Protecting Your Business From Pests Starts With Patriot Pest Management
No matter what industry you're in, a pest infestation will hurt your business. From damaging your facility, equipment, or inventory to causing illness in your employees or customers, you must actively prevent and eliminate common pests to protect the health, safety, and success of your Greater Bay Area business and its people. That's where Patriot Pest Management comes in.
Our Commercial Pest Control Process
Your commercial pest control begins with a conversation about what you've seen in your facility. In order to provide you with the best service, we need to know what type of pests you've seen and where you've noticed problems or activity. We'll then begin your inspection in these areas before branching out into the rest of your building, including attics, basements, and crawlspaces. We use a variety of tools, such as flashlights, mirrors, and monitoring devices, to get a look in hard to reach areas.
Once we've performed a thorough inspection, we will develop a plan to treat your pest hot spots and protect your building from future threats. Our initial service treats both the interior and exterior of your building and is very detailed.
Inside, we'll treat:
Cracks and crevices
Baseboards
Kitchens
Bathrooms
Drains
Outside, we'll treat:
Cracks and crevices
The perimeter of the building
Under the eaves
Under the base of the building
Out from the building, including the entire property if necessary
Along the fence line
Our commercial pest control is a monthly service. We'll return to your business every month to re-treat in order to prevent new pests from getting inside. Your follow-up treatments are similar to your initial treatment, although we can make tweaks if necessary.
Autobody Shops
Repairing vehicles can be difficult if you have pests actively working against you. Pests can get into the vehicles you're working on or damage the equipment you use to fix them. Keep pests out with Patriot Pest Management.
Property Management
From offices to apartment complexes, pests can quickly infiltrate an entire building, causing problems for every tenant inside. Protect your tenants and your property with the help of Patriot Pest Management.
Bars & Restaurants
A restaurant is one of the worst places to get a pest infestation. Not only does it put your customers' health at risk, but it also can destroy your reputation. Protect them both with Patriot Pest Management.
Retail
An enjoyable shopping experience for your customers does not include bugs dropping from the ceilings or rodents scampering along the walls. Protect your guests and inventory by partnering with Patriot Pest Management.
Schools
Your students deserve a safe, healthy environment where they can learn without worry. A pest infestation threatens that goal. Protect your students with commercial pest control from Patriot Pest Management.
Warehouses
A warehouse can act as a giant pest playground, offering many areas to hide and little chance of being discovered until they've caused serious damage. Keep pests out of your facility with Patriot Pest Management.
Worship Centers
Times of fellowship should be enjoyable and peaceful. But that peace can be disturbed when pests decide to join in. If you're dealing with pests, reach out to us today. At Patriot Pest Management no pest problem is to big or too small for us to handle.
Office Buildings
When pests invade the office it quickly puts the health, productivity and morale of your business partners in danger. As you are dedicated to keeping a productive environment, we are dedicated to keeping that environment pest free!
Health Care Facilities
We know how important it is to keep a pest free facility. And the presence of pests can compromise the sterile environment that you strive to maintain. Keep your facility sanitary with commercial pest control from Patriot Pest Management.
Hospitality & Lodging
Providing guest with a 5 star experience and maintaining an enjoyable atmosphere is hard work. But if your guests spot a pest, it's a quick way to ruin their experience, and your reputation. As you provide quality service for your guest, Patriot Pest Management provides quality service in eliminating your pest problems.

Entertainment Venues
Whither it's concerts, graduations, weddings or conventions; a clean ready to use facility is a must! With frequent traffic and food catering it is common for pests to make their way inside. Keep pest out of your facility with help from Patriot Pest Management.
Athletic Facilities
Staying healthy and in shape is important. But when pest invade they not only are unsightly, but they also pose serious health risks to your guest. Patriot Pest Management is dedicated to keeping your facility clear of pests.
Grocery & Pet Stores
Wherever there's food & shelter, pests are bound to try to reside. This makes pet stores and grocery stores prime real estate for pest such as rodents, and cockroaches. At Patriot Pest Management we know the importance of keeping a clean and pest free environment.
Fuel Stations
The last thing that you should have to worry about are pests making a pit stop at your facility. At Patriot Pest Management, we offer reliable and quality commercial pest control services that will keep pests away from your property.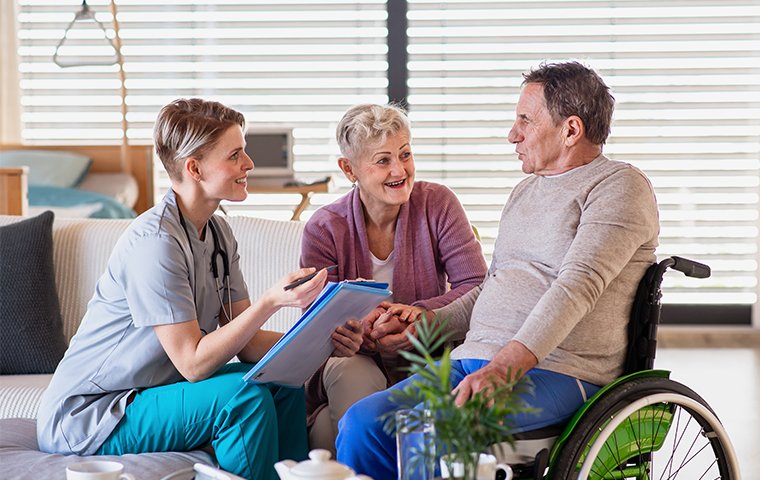 Senior Centers
Keeping your residents safe and happy are a top priority. Keeping pests out should be too. If your dealing with a pest problem in your center, reach out to Patriot Pest Management today for customized and effective service.
Reasons To Choose Us
Deciding which pest control company to entrust with your business is no easy decision. Here's why you can trust Patriot Pest Management:
We have over 40 years of experience treating pest problems.
We customize our service to your needs.
We are committed to exceptional customer service.
We listen to your needs and concerns before offering solutions.
We treat our customers like family.
We use integrated pest management (IPM) techniques.
Our service is guaranteed.
We are family and veteran owned.
We give back to our community through service and philanthropy.
At Patriot Pest Management, we know how much hard work and dedication go into running a business, and we understand how even a small problem can threaten a business's success. That's why we provide every commercial customer with the care and service needed to eliminate pest problems, no matter how big or small, while ensuring they don't come back. When we succeed in our job, you can succeed at yours. If you need commercial pest control, contact Patriot Pest Management today.
Request Your Inspection
Complete the form below to schedule your no obligation inspection.