Are Wood-Destroying Organisms At Work In Your Home?
Termites and other wood-destroying organisms are often in a home for a long time before being discovered. During this time, they can cause significant damage to the wooden structures within your house, even weakening them to the point of making your home an unsafe structure. Preventing this type of damage is vital, and with termite control from Patriot Pest Management, it's also simple.
Our Termite Control Offerings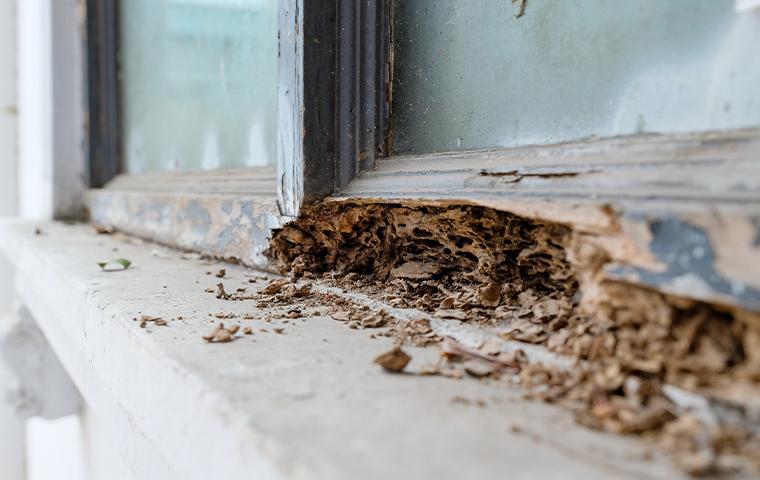 Inspection
We'll begin your service by performing a full inspection of your property. This examination includes your attic, accessible subareas, and the entire exterior, including outbuildings. Our inspections include looking for all signs of wood-destroying organisms, such as beetle damage or dry rot.
Once we've determined what species of pest is present in your home, we will develop a plan to eliminate it.
Treatment
Our treatments vary based on the type of pest that is causing problems in your home. If we discover surface fungus, we'll scrape it away, then treat it with Tim-bor, a borate salt product that protects the wood.
If you have drywood termites in your home, we offer tenting and fumigation services. You'll need to leave your home for the duration of this treatment, but it takes care of the entire infestation with just one treatment.
If you have subterranean termites in your home, we offer Termidor® treatments. Termidor® is the #1 liquid termiticide on the market. Depending on the type of foundation you have, we'll drill and treat or rod and treat around the perimeter of your foundation to form a barrier of protection against termites.
Follow-Up
Follow-up services are optional and available for the duration of your warranty. Our fumigation service comes with a three to a five-year warranty. Our liquid treatment comes with a three-year warranty.
Protect Your Home From Termite Damage In The Greater Bay Area & Surrounding Counties
Termites are bad news for your home, and because they can remain unnoticed for so long, it's important to do everything you can to prevent them. If you suspect termites have gotten into your house, contact Patriot Pest Management. We have the experience and knowledge necessary to identify a termite infestation and treat it in a way that will effectively and efficiently eliminate it.
Request Your Inspection
Complete the form below to schedule your no obligation inspection.